I'm starting down the path of home fermentation/brewing with some hard cider. Unless you're after a natural/funky type fermentation, the first step is cleaning and sanitizing all equipment used. In this case, I used an iodine solution for the sanitation, which has a brown color and a smell reminiscent of chlorine but "heavier".
For this cider I went with a popular recipe on Homebrew Talk,
EdWort's Apfelwein
. Pretty simple, just apple juice, dextrose (for extra alcohol), and yeast.
By bedtime on the 14th everything was tucked away in the basement to ferment.
Evening of the 15th the cloudiness, which had started on the bottom the morning of the 14th, had crept halfway up the bottle. A few bobbles of CO2, but not much yet.
Yesterday morning (the 16th) teh cider is cloudy all the way to the top, and the bottom is getting paler.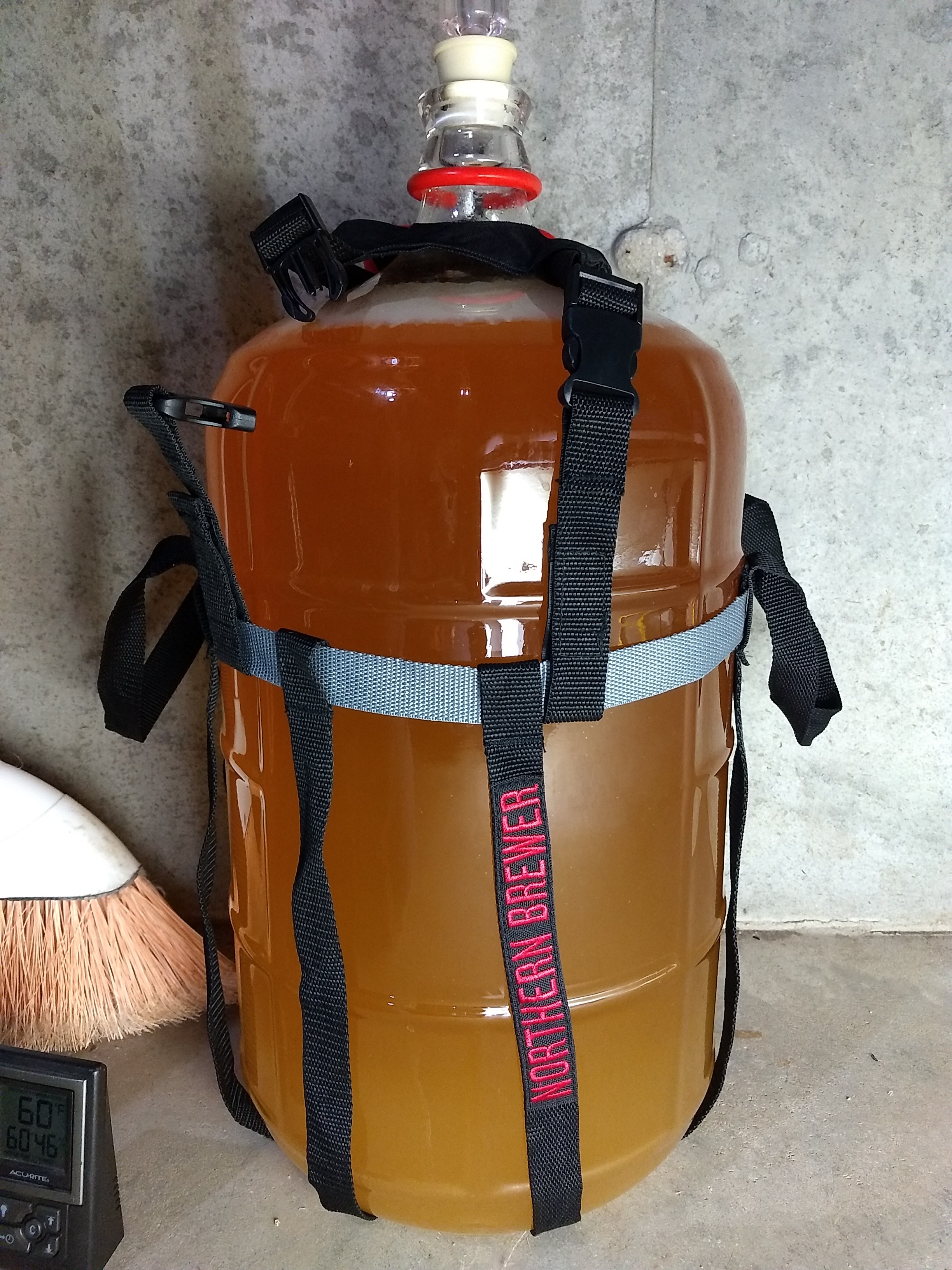 Unfortunately the bubbles (krausen, I believe it's called) had started building. With store juice and this type of yeast it wasn't supposed to get krausen, so I didn't have much room in the carboy.
By around 9 it was threatening to enter the airlock.
I started looking through my limited supplies and came across a promising setup with the tube from my siphon, the rigid tube from the bottle filler, and a stopper.
I cut both types of tube down to more manageable sizes, cleaned and sanitized, and stuck the end of the tube into a bucket of Iodophor (iodine) sanitizer solution.
And then, of course, it mocked me. The krausen grew, touched the stopper but did
not
enter the tube, and by the evening it was clearly falling away. I would have been okay with the airlock after all. Ah well.
As of this morning it's a uniform, cloudy, pale color. The rate of fermentation keeps increasing. Once it starts slowing I will switch back to an airlock.
They say a month, minimum, before you can drink it, with 6 months being more ideal. This should be a very dry, ~8.5% ABV batch. I'm planning to start a second batch this weekend that I can let age for a few months at least, since we will not be waiting months to try this batch.
A number of years back I planted pear and peach trees, moved a year and a half later. Last year I planted peach trees, red currants, raspberries, blackberries, and strawberries...moved this spring. Now I've planted pears, peaches, apples, and my aunt sent me grape and black currant cuttings I'm currently propagating. More fruit, likely more cider apples along with raspberries and such will be planted next year (pool is the main project this year). Hopefully we'll be here a while, we plan to be anyway, and we'll be able to start making drinks from home grown fruit.
So yeah, I've been meaning to do this for a while. This particular batch started as I found used winemaking supplies for cheap on craigslist and got it planning ahead. Then I started musing about making cider/beer and my wife said "you've been talking about it for years and never had, I'll believe it when I see it." SO...I had a batch of cider started a week and a half later, as soon as the yeast that I ordered the night she said that arrived.
Besides another batch of cider that can age for several months, I'm planning on getting a couple of the extract beer making kits from Northern Brewer or similar and try my hand at homemade beer. If I like it enough I may graduate to partial or all grain brewing, but all grain brewing is definitely something I don't want to jump straight into.
Some of this beer/cider will be bottled, but I also bought a kegging system so most of it will be stored on tap in a soon to be build homemade kreezer. Pool, spa, homemade beer/cider on tap? We're going to have more friends than we know what to do with!